Merging Beauty and Function
The Xceed's modern, appealing aesthetic takes its inspiration from natural life. Its smooth, no-gap surface eases lateral transfers and docking, as well as perfectly integrates features like the front and rear LED lights and concealed storage compartments.
Plus, it comes in a wide range of colours.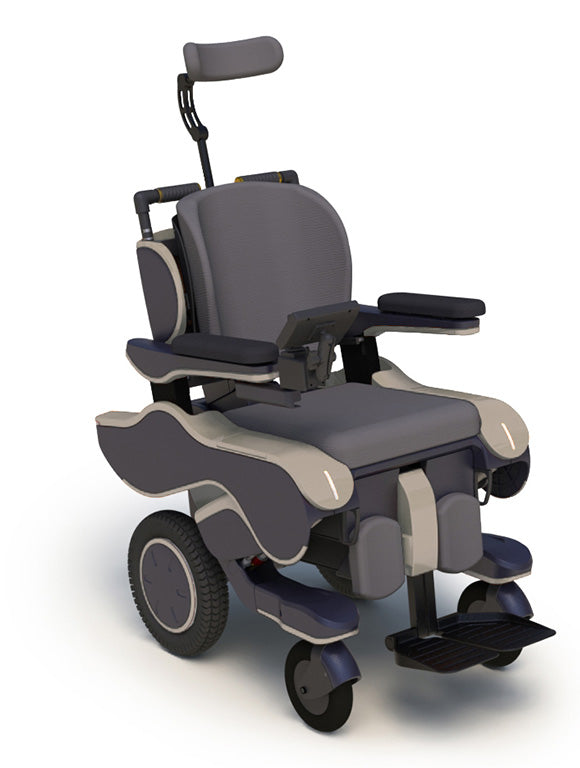 Innovative Design
Cheelcare Xceed
Four Independent Legs
Patented design replicates natural movements, allowing the user to achieve an almost limitless number of positions for maximum comfort.
Active Suspension for a smooth ride
Backrest with anti-shearing mechanism protects sensitive skin
Articulated powered legrest
Raises and lowers for personalized comfort
Self-adjusting casters
The casters always stay vertical.
Lightweight construction
Lightweight frame structure, lighter and more efficient motor and batteries.
Safe & Convenient
Automatic levelling on inclined surfaces provides users with safe and comfortable navigation.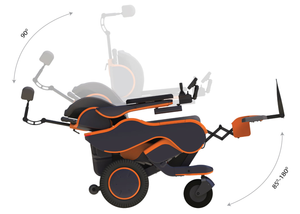 Legrest Elevation & Backrest Recline
The articulated powered legrest extends while elevating, protecting the knees and hips.
The reclining backrest and elevating legrest allow a full flat position.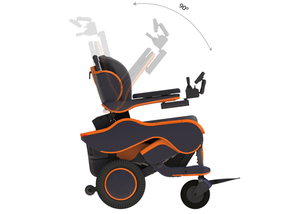 The pivoting armrest combined with the power chair height adjustment and lateral tilt facilitate transfers.
Multidirectional Tilt
Posterior & Anterior tilt
Posterior tilt allows pressure points relief, skin protection and blood circulation management.
Anterior tilt facilitates front pivot transfers and reduces risk of trauma for caregivers.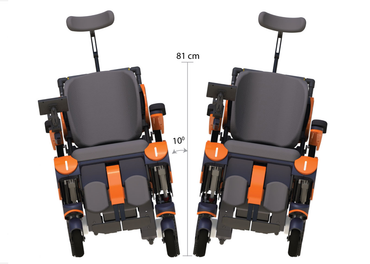 Lateral tilt together with height adjustments and pivoting armrests ease lateral transfers.
Adjustable Height
Cruise at your preferred height, then adjust according to your daily activities.
Access high shelves and communicate eye-to-eye with a standing person.
Reach down to floor level. Interact with children, pets, plants.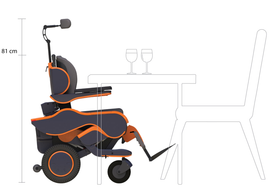 Adjust elevation to accommodate for different tables' height.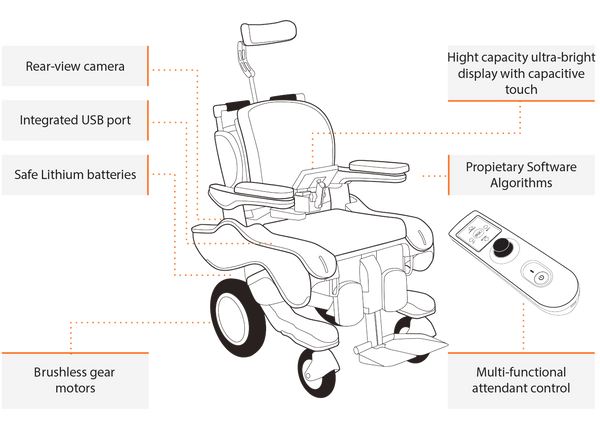 Modern Technology
Cheelcare Xceed
Brushless gear motors
Lighter and more efficient motors.
Lithium-Ion batteries
Greener, lighter batteries are safe, charge faster, have a longer shelf life and have an increased range.
High-resolution ultra-bright display with capacitive touch
Choice of speeds, preset preferred positions.
Compatibility
Industry standard I/O module allowing alternative and environment controls.
Multi-functional Attendant Control (optional)
Gives more independence to the user and safer control to the caregiver
Integrated Transit Tie-down Points
Secure the power chair when in a vehicle.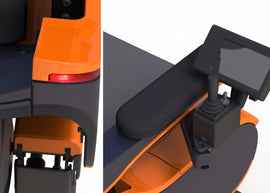 Swing-away Joystick Mount
Swing away the joystick assembly when approaching a table.
Integrated Rear-View Camera
Integrated rear-view camera gives the user safer control when reversing.
Storage Compartments with USB charger
Keep small items at hand and safe. Charge your gadgets on the go using the integrated USB port.
Pricing & Delivery
Advanced Robotic AI-Connected Electric Wheelchair from $20,000 USD.
Cheelcare Xceed pricing varies based on your required functionality. Contact your local vendor for help ordering your Xceed.
Our products are designed for faster manufacturing and shorter wait-times for customers. However, delivery of your customized Cheelcare Xceed will take 4-6 months, as each individual Xceed is built to the user's exact specifications.
Customization Range

Cushion Width & Depth
14", 16", 18", 20"
Backrest Width & Depth
16", 18", 20"
Armrest Height (adjustment)
8" – 11"
Legrest height (seat to heels) (adjustment)
10" - 20"
Colors
Black, orange, blue, silver
Technical Specs

Length with anti-tippers
32" / 81 cm
Width
24.9" / 63 cm
Seat-To-Floor (at elevated position)
32" / 81 cm
Seat-To-Floor (at lowest level position)
14" / 35.5 cm
Weight with batteries
290 lbs / 130kg
Rear Tires
3.00-8 (pneumatic or foam filled)
Front Tires
8" (pneumatic or foam filled)
Legrest Angle
85 - 180°
Recline angle
0 - 90°
Tilt Angle
0 - 45° Posterior / 0 - 45° Anterior
Lateral Tilt
0 - 10°
Seat-To-Top of Headrest (elevated position)
65" / 165 cm
Driving Range (2 batteries / full charge)
45 km
Maximum Speed
12 km/h
Speed Settings
10 settings
Drive System
RWD
Turning Radius
25" / 63.5 cm
Max Obstacle Height
3-4" / 7.6-10 cm
Chair Ground Clearance
3.5 - 11" / 9 - 28 cm
Braking System
Electromagnetic with mechanical release
Max Weight Capacity
300 lbs / 136 kg
Battery
48V 20Ah
Charger
7A Charger