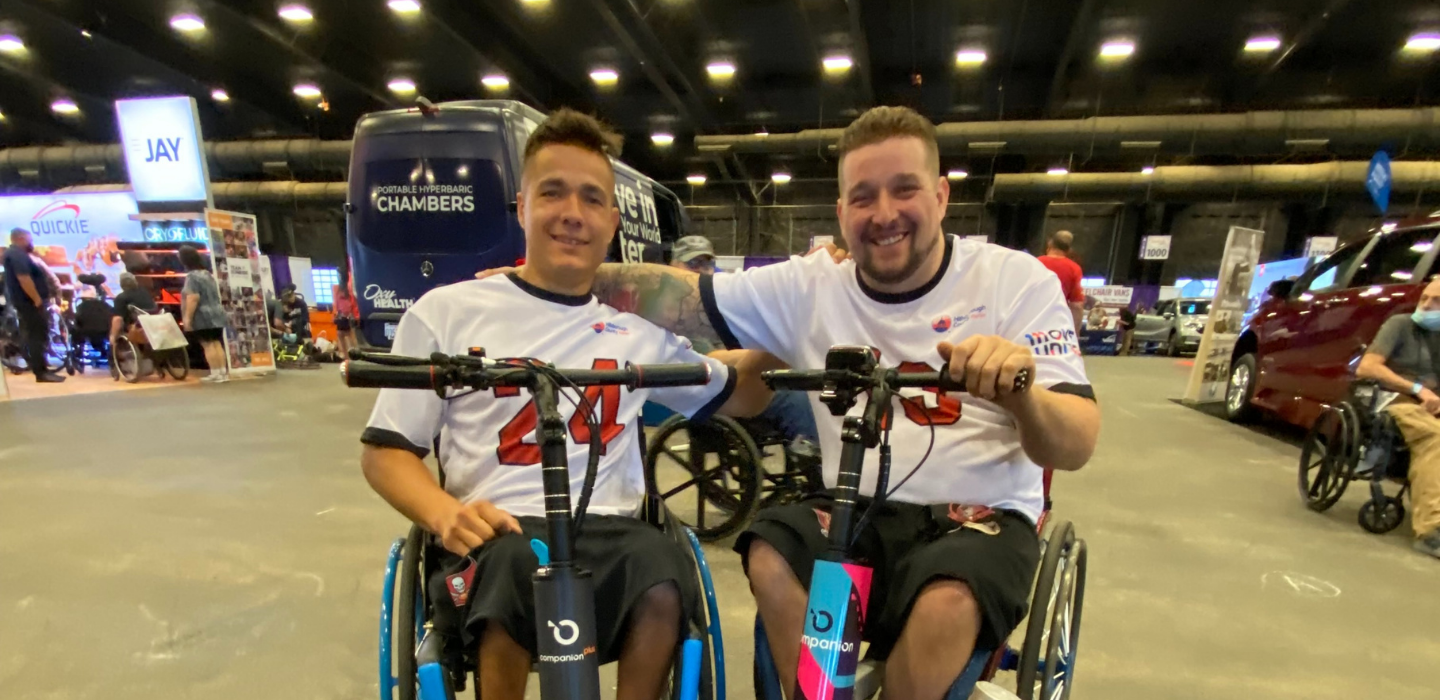 Abilities Phoenix was a blast. New York this weekend!
Abilities Expo, Phoenix was amazing!
We met so many great people at the Abilities Expo in Phoenix. It is always great to get out and have people try Companion and see their reaction for the first time.
Our team is always humbled to hear your stories and the impact that getting a Companion means to you.
Wheelchair Football
Throughout the weekend we got to sneak away to watch the Wheelchair Football tournament and meet many of the athletes who were competing throughout the expo.
A few of the guys took their turns to stop by our booth for their chance to test Companion - some even puttered around the show on them in some **Creative** ways.
It was so much fun! Congrats to all the athletes who played over the weekend. They were some great games!
Workshops
Abilities Expo always welcomes some great speakers at their workshops. Althugh they're all great, one of our favourites at this expo was Sylvia Longmire who shared her expereinces travelling the world as an active wheelchair user. She detailed how she preplans her travels to ensure a seamless and enjoyable time using her WHILL Ci2. Some of her tips and tricks are awesome for Companion users. Companion is certified for air travel so experiencing the world barrier-free is becoming more accessible.
New Dealer
Companion garnered a lot of attention from people interested in Power Assist Systems. Notably, a few dealers we met at the show who loved the product and wanted to carry the line for their customers. Southwest Mobility Inc. decided to join the Cheelcare team. 
Southwest Mobility Inc.
Locations in Mesa and Sun City, Arizona
www.southwestmobility.com
Toll-Free: (877) 429-0944
Food & Drink
Aside from the hard work of spending time at the show and meeting amazing people, we get to spend some time after the show exploring the local area.
After a day on our feet, we were lucky enough to experience some local fare such as Olive & Ivy, Culinary Dropout and Farm and Craft.
Scottsdale has some incredible food and drink. We highly recommend checking them out if you're in the area. Maybe during next year's Abilities Expo Phoenix ;)
Next Event
We always love to get out and meet new people!
Our next event is Abilities Expo - New York Metro October 1-3. If you can make it, stop by our booth and say hello! Here are the details:
Abilities Expo New York Metro
OCTOBER 1-3, 2021
New Jersey Convention & Expo Center
97 Sunfield Ave, Edison, NJ 08837, United States
Fri. 11am-5pm | Sat. 11am-5pm | Sun 11am-4pm